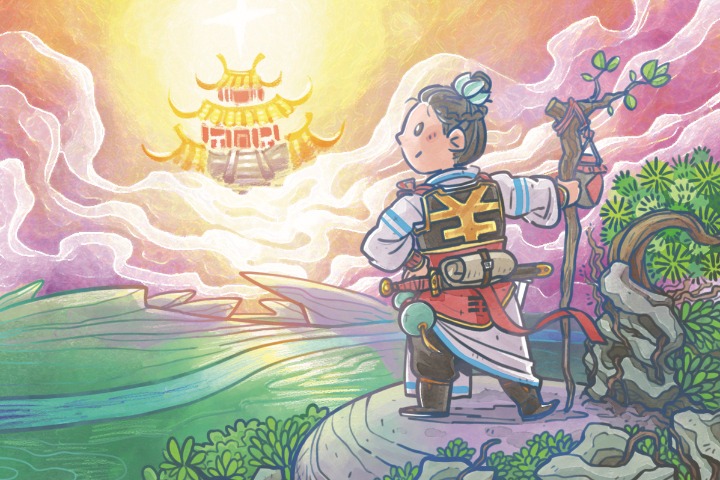 After the economic storm, a bright future awaits
At present, the country's economy is facing many serious challenges. Externally, the Russian-Ukrainian conflict, global supply chain issues and disputes with the United States are weighing on confidence. Internally, resurgences of COVID-19 and various long-term factors such as debt risks facing the real estate market and financial institutions as well as weakening investor confidence in the market are creating uncertainty.
Indeed, many short-term difficulties are in sight, but the medium and long-term prospects are more promising. China has become the world's second largest economy after more than 40 years of reform and opening up. And it will incubate more supply and demand growth opportunities than any other major economy over the next five to 10 years.
For example, from the supply side, there is a relatively high national savings rate, a complete industrial system, abundant human capital accumulated over 40 years, and institutional dividends from further reforms. From a demand perspective, as a nation with a large consumer market dominated by 400 million middle-income people, China has enormous consumer potential and growing trade ties with economies involved in the Belt and Road Initiative. It is fair to say that the medium to long-term growth prospects of the Chinese economy are promising.
But why is there still pessimism in the market? The answer depends on whether the aforementioned possibilities come true, whether there will be an inflection point in current development trends, or whether things will pick up speed soon. Everything therefore seems hazy and the current sentiment weighs on any motivation for investment and consumption. Therefore, medium and long-term sustainable development depends on whether the main problems in the functioning of the national economy lead to unclear expectations and a lack of confidence, and whether or not they can be resolved in a timely manner.
Trust of private actors
Private enterprises play a vital role in China's economy, as evidenced by more than 40 years of rapid growth. However, some private companies are currently shifting their focus from physical activities to financial players, as many of them are struggling to resolve funding issues and cope with strict market surveillance, which dampens their expectations and entrepreneurial enthusiasm.
If we take the example of private investment, the ratio of private investment to total investment over the past 10 years, although lower, is still above 50%. However, the year-on-year growth rate of private investment itself, after a double-digit growth of 15.8% in 2014, started to slide to 8.8% in 2015 and then to 2% in 2016. In 2020 and 2021, both -annual average is less than 4 percent, and in the first half of this year — 3.5 percent.
The problem is worrisome, as other issues follow in the wake of investment declines: lack of tax revenue, slower GDP growth, declining employment and incomes, and possibly declining consumption by entire households. To solve the problem, which cannot be solved overnight, the government should focus on institutional reforms to help restore market confidence.
Therefore, the government should better protect the legitimate rights and interests of private companies. Governments at all levels, including ministries and commissions, should redouble their efforts to ensure that the various business entities compete openly, fairly and equitably while respecting the regulations and trade policies that have been formulated.
Also, the government should always have a clear view of the capital markets. The capital market must be well guided to better support economic growth, as it is essential to make good use of different types of financing to advance the market economy.
In previous years, there has been a "disorderly expansion" of capital observed in the sector, one of the main causes of which was the absence of various related regulations. To this end, it is necessary to further improve the regulatory systems according to the different types of capital and existing companies.
Consumption and livelihoods
According to consumption figures recorded in recent years, consumption's contribution rate to GDP increased from 56.3% in 2014 to 65.4% last year, and reached 69.4% in the first quarter of this year. There is no doubt that consumption is playing an increasingly crucial role in driving economic growth. However, the sector has been under pressure and has seen declines in recent years.
After annual growth of 10.4% in household consumption in 2018, the segment recorded single-digit growth. The average growth rate in 2020 and 2021 is above 6%, while in the first half of the year, real consumption per capita increased by only 0.8% and the retail sales growth index fell by 0.7%.
It is common knowledge that the vitality of production is the key to employment, income and consumption, and the weakening of consumption has an effect on production, directly affecting the stability of economic growth and employment. In this respect, residential income, as we can see, is an important factor limiting consumption growth. And the continuous improvement of people's living conditions is a fundamental issue directly related to the construction of a unified market and the smooth operation of domestic circulation. It is also a crucial task amid basic structural adjustments as China, as the world's second-largest economy, strives to achieve sustainable development.
As we delve deeper into this question, we need to know what prevents consumers from increasing their consumption. According to the China Statistical Yearbook 2021, there are 870 million low-income people earning less than 2,000 yuan ($281.8) per month, and whose consumption power is understandably quite limited. Middle-income people, although they number 380 million and earn between 2,000 and 5,000 yuan per month, also keep their money due to budgetary problems concerning children's schooling, the possibility of heavy medical bills, real estate and care for the elderly, which "scare" them from spending too much too.
To unleash the consumer power of these two consumer groups with a population of over a billion, political support is absolutely necessary, such as providing stable jobs and accelerating distribution reforms.
Fight against hidden risks
China is at a critical point as its growth slows, while the economy still has to suffer from structural adjustments and digest past stimulus, meaning risk reduction will remain a priority area for some time to come.
As we can see, there are potential risks in two sectors that should be better monitored: corporate debt and a sluggish real estate market.
In 2021, the total social finance stock raised in the market was 314.13 trillion yuan. Excluding government bonds, residential loans and interest-free equity financing, the stock of interest-bearing financing in the corporate sector was 180.48 trillion yuan. If weighted by an average lending interest rate of 4.95 percent in 2021, companies would have to pay 8.93 trillion yuan in interest all last year. If the principal of each loan is repaid over an average period of three years, the principal repayment for that year would be 60.16 trillion yuan. So, in this case, in 2021, a total of 69.09 trillion in principal and interest will have to be repaid.
One wonders how much revenue a business needs each year to repay its principal and interest. In 2021, the operating profit of industrial enterprises above a fixed size was 127.92 trillion yuan, with a repayment capacity of 185.15%. Operating income always contains operating costs, among others, with operating costs usually accounting for 50-70% of operating income, not to mention that companies also have to pay taxes. Considering these factors, one can see the seriousness of the problem, reflecting the key role of monetary backers in the past and also in the future.
The second is real estate. The current situation in the sector is grim. Investment in property development, which accounts for a quarter of total investment, fell 5.4% year-on-year in the first half. Property sales fell 22.2%, home sales fell 28.9% and new construction fell 34.4%. Based on last year's negative growth, the area of ​​land purchased fell 48.3% in the same year-over-year period.
Housing market instability has become an extremely important and urgent issue for China to address, and it has become a fundamental issue affecting all aspects related to market stability. And for this to be fixed, more policies would have to be perfected for sure.
It is also certain that some adaptation time will be necessary. And there is an even longer way to go to solve the problem, release the risks hidden behind the market and maintain long-term momentum. This is a tricky question, but one that will yield long-term benefits if well managed and supported in the short term.
The writer is chairman of the China Chief Economists Forum and a former adviser to the State Council, the country's cabinet. This article is a translated version of an editorial by the author of CEF.
Opinions do not necessarily reflect those of China Daily.